Dallas Internet Marketing
Mike Salom is a Dallas Internet Marketing consultant.   I conduct SEO Services and generate Internet Marketing campaigns that cover all aspects of marketing including, Search Engine Optimization, PPC Marketing, Reputation Management, Social Media Marketing, Landing Page Optimization, Link Building and Email Marketing. I have worked with companies in numerous industries (Travel, Hotel Booking, Telecom, Mortgage, Pharmaceuticals, Retail, Software, Technology, and many others).
The business landscape is expanding; a local store may want to reach customers in adjacent cities (local commute to work has gone up to as high as one and a half hours each way).  That's as high as a 45 mile radius around your location.  A larger company may want to touch new customers' state wide; a regional chain may want to go national.  In order to reach new customers many of our clients are taking our advice to start a low cost PPC management account to generate leads and increase their sales.  What are your current advertising and marketing expenses?  Maybe it time to looking into PPC Managed Campaign.
"We couldn't handle the number of leads coming in…"
"We had to turn it off for a few weeks"
Our entry level Pay Per Click Management package starts at $150 per month for maintenance plus your ad spend.
If your company has a website but does not show within the top ten results of the first page then you are losing money to your competitors.  As you can see in the graph below Google has holds the largest market share when it comes to search.  At Salom, we help you to get to the top of the search engine by working with you to find the best keywords for your business and niche.  We use ethical on page Search Engine Optimization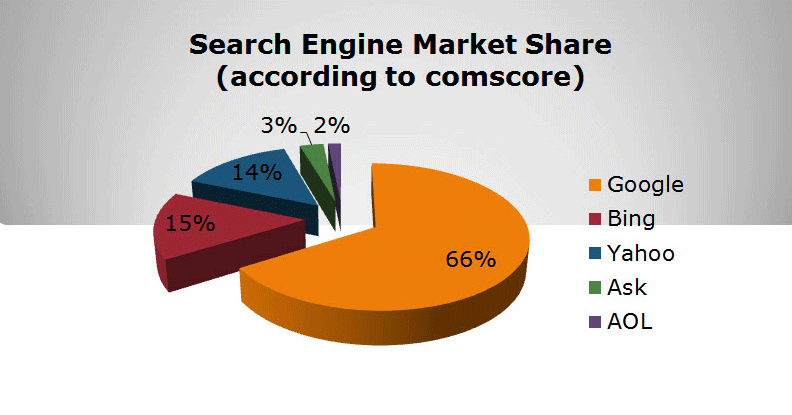 Landing Page Optimization
If you're using Pay Per Click (PPC) campaigns, you'll understand that your landing pages are vital to your success. Your landing pages are very important to a PPC campaign and they are also important to banner pages, organic results pages, email marketing campaigns pages, press releases destination response pages and basically all pages that require customer input, response, conversion or feedback.
In PPC, the landing page is the page that is displayed when a customer clicks on your PPC ads.  You have now just paid for a customer to visit your site and you want that landing page to be the best possible page to convert visitors into customers.  PPC Landing should also be optimized to give you a high quality score association to the keyword.  Low quality score in your PPC campaigns can cause your Cost Per Click (CPC) to increase drastically.